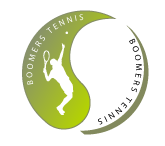 Bayside Boomers Tennis, Coaching Program
Club Professional and Head Coach – Grove Bennett
Patterson Lakes Tennis Club is the home of the Bayside Boomers Tennis Academy  and Tennis Teams (Boomers).  Boomers Tennis offers a range of tennis coaching programs including social tennis, private, semi-private, group, squad and competition match play for all ages and levels from grass roots tennis to high performance/elite athletes.
Our fully qualified and accredited coaches are here to help you identify the best way to improve your tennis game including stroke bio-mechanics, analysing match play tactics & strategies and overall fitness levels.
Our goal is to help your tennis excel.  By supporting each players on court development through technical, mechanical and tactical progress. We pride ourselves on building our players knowledge/education on and off the court. We assist with a players nutrition, recovery, injury prevention and psychology to bring out your Booming Tennis performance.
At Boomers Tennis we love what we do and take pride in seeing our players develop into great young players both on and off the court. Playing ethics, compete levels are just the beginning, we also focus on fair play, sportsmanship and developing great habits such as respect, dedication, commitment and communication. We believe it takes a village to raise a child and we look forward to being a part of your village and look forward to you joining ours.
Boomers Tennis works collaboratively with our players, parents, coaches, clubs and committee's to ensure all our players evolve into great young tennis players and individuals in a safe, comfortable environment that fosters a fun and exciting atmosphere for all. 
Register at Boomers Tennis for a FREE guest coaching lesson and let us help place you in a program that will best help you achieve your tennis goals.
We look forward to seeing you on the court!
Boomers Tennis
Please Call 0488 428 808 or E-mail – info@boomerstennis.com  for more information and bookings. 
Junior Coaching
Adult Group Lessons
Cardio Tennis
Private Lessons
Pro Shop 
For a full list of products please visit our proshop page (Coming Soon).
Club Shirts - $30.00
Interested in purchasing a PLTC club shirt. Please see the Junior Co-ordinator or email committee@pltc.com.au.